Shine Holiday Clubs
Flexible, affordable and reliable childcare for working families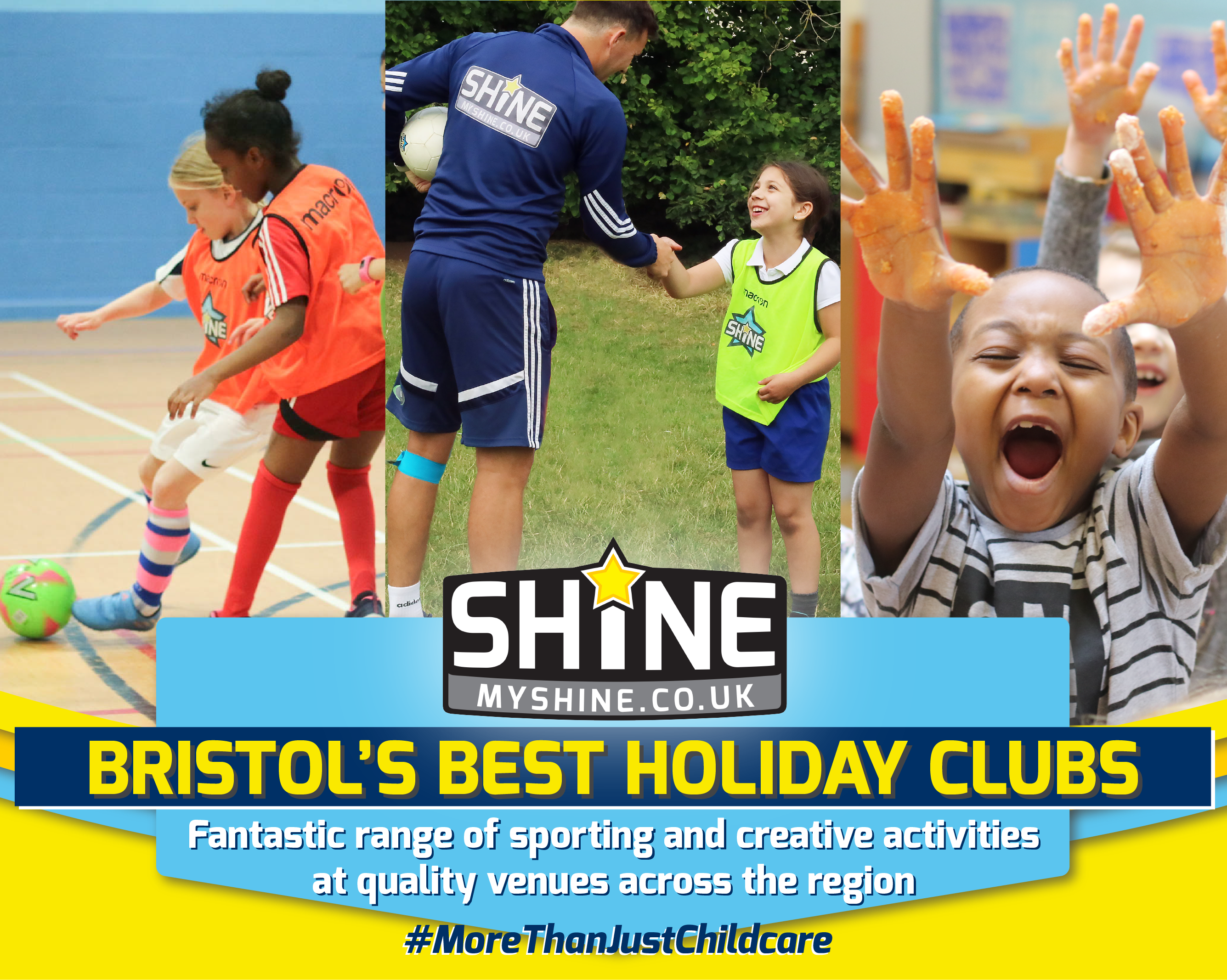 Shine Holiday Clubs offer a fantastic range of professionally organised sporting and creative activities at quality locations in Bristol and surrounding area during state school holiday periods. Shine is an ideal choice for primary aged boys and girls who like to keep active and engaged during school holidays and also for working parents requiring affordable and reliable childcare.
Our Holiday Club locations include:
Shine Community Sports Hall, Brecon Road, Henleaze, Bristol, BS9 4DT
Coombe Dingle Sports Complex, Coombe Lane, Bristol, BS9 2BJ
Clifton High School, College Road, Clifton, BS8 3EZ
Please note prices/locations and the times/lengths of the day are subject to change. Please check the details on adding your activity to your basket.
Just look at the great choice of activities on offer across the different locations we operate during holiday periods:
Shine Creative
Shine Creative is a great free-play focused activity option for imaginative boys and girls who enjoy creating something amazing and unique on their own or as part of a group. Shine's friendly and experienced creative team will encourage the children to use their creativity to explore new ideas and try new art-based activities through a series of workshops throughout the day.
Forest Adventure
This safe and exciting outdoor programme offers children from Reception to Year 6 an exciting combination of nature, discovery and fresh air with a focus on healthy, sociable fun and exploration. The wide range of outdoor activities offers children a memorable free play experience including the opportunity to try; Den Building, Rope Bridges, Tree Cookies, Scavenger Hunt, Fire Building, Mini Beasts & Habitats, Nightline Trial and Marshmallow toasting. An ideal choice for children who like to try new challenges and enjoy the great outdoors! Forest Adventure workshops are facilitated by experienced Level 3 qualified Forest Leaders.
Shine Minis
Shine Holiday Club has a great reputation for providing exciting activity choices for Reception and Infant aged children thanks to its innovative Shine Minis programme. This hugely popular option is full of fun, variety and learning for boys and girls who will benefit from a friendly and sociable introduction to sports. Each day involves a series of age-appropriate activities comprising of many different games and challenges with an emphasis on ball skills, coordination, communication in addition to some healthy exercise in the fresh air when the weather allows!
Cricket Academy
Shine Cricket Academy's team of highly experienced ECB qualified coaches will deliver a quality cricket programme using the outstanding facilities at Bristol Universities Coombe Dingle Sports Complex in BS9. With a choice of hardball and softball formats the academy caters for children of all ages and abilities; from newcomers to youth club cricketers. As part of an action-packed day, children will work in groups and will learn the basics of Batting, Bowling and Fielding through a series of innovative skills, drills and match situations.
Football Academy
Football is one of the most popular holiday club choices thanks to Shine's talented team of FA qualified coaches who offer a great day of footballing fun for children of all abilities. Soccer mad boys and girls will get the chance to improve all aspects of their football skills and knowledge through technical drills and match play focusing on core aspects of football including; shooting, tackling, teamwork, vision, attacking, and defending. To ensure children play with boys and girls of a similar age, Shine divide the football options between Mini-Football (KS1) and Junior Football (KS2)
Dance Academy
Shine Dance Academy is a fresh and exciting holiday club choice for children who want to learn how to dance and perform as part of a group. The Academy combines creativity, exercise, and enjoyment with a challenging choreography routine that connects contemporary music with innovative movement. Sessions will be lead by experienced instructors who will cover popular genres including; Disco, Modern, Theatre, Street and Contemporary. Students will be taught a range of dance techniques that teach them how to express themselves through their own movement.
Multi-Sports
Multi-Sports is a great option for those boys and girls from Year 3 to Year 7 who enjoy variety and diversity. The programme delivers an inclusive combination of fun games, group challenges and popular team sports for children of all abilities in children's own age groups to get the best from the day. Many Shine Multi-sports days focus on a 'feature sport' which may include; Volleyball, Dodgeball, Football, Hockey, Softball cricket, Handball and much more. To promote a healthy life style the Shine team will endeavour to run activities outside in the fresh air as often as possible. Our Holiday Club at Clifton High school includes a fun swim in the pool.
Team Sport Workshops
Shine Holiday Club offers masses of extra choice for children thanks to its range of one-day workshops. Each activity is delivered by experienced staff who will deliver fun and educational daily workshops on themes that include; Gymnastics, Tag Rugby, Hockey, Basketball and Netball. Please use our online search option to find on what Workshops are on offer next holiday.
Shine Sports Days
As a holiday activity option, Shine Sports Days were set up in summer 2019. As part of a fun-packed day, the children will participate in a range of traditional, inclusive 'school sports day' fun event such as Egg & Spoon and Tug-o-War. In addition, the Shine coaches will run a set programme of junior athletic disciplines including 100 metres, javelin and hurdles, Official times and distances are recorded so a boy or girl can have the honour of becoming a 'Shine Sports Day' record holder. Below is the latest set of records. Do you think you can beat one or more of these?