What is your refund policy?
Cancellation Policy - After School Clubs
We will only credit if at least 6 DAYS notice is given. When a customer wishes to cancel or amend an order, you can amend your order online yourself via 'My Account' as long as you want to amend within the 6 day notice period. If you are outside of this period the session will be greyed out and unable to be changed and therefore he/she must directly notify Shine via i[email protected] or call 01174 033 033. Cancellations or amendments of an activity to an alternative day made after this period will be charged in full with no credit or refund applicable. You may swap to another activity on the same day, subject to availability, free of charge, please email [email protected] with your request for the change.
Cancellation Policy - Holiday Clubs
Over the Holiday periods we have reduced our cancellation policy to 48 hours before the start of the activity, Please email [email protected] with at least 48 hours notice and we can amend your booking.
Cancellation Policy - Development Squads
Where a squad is paid 'per term', or monthly via Direst Debit, there is no credit or refund for a missed session. If you wish to cancel the remaining sessions for any reason, please email [email protected] to arrange your cancellation.
Our 6 day cancellation policy remains in place in the event of isolation due to COVID-19 isolation with refunds considered only in exceptional circumstances.
How does Shine cater for children with SEND?
Our Inclusivity Statement
At Shine we believe every child is special and we celebrate their difference. We encourage equality of opportunity at all our activities, and wherever possible, aim to make them accessible as well as safe. Whether it's promoting good sportsmanship or directly challenging incidents of prejudice and discrimination, we aim to make every child and employee feel equally valued and important.
Wherever we can, we will make reasonable adjustments to our activities in order to cater for all children and staff. We stand against discrimination of race, ethnicity, nationality, class, religion, culture, gender, language, sexual orientation, disability or additional needs. We strive to continuously develop our ways of working so we can provide families with a high quality of care provision with the resources we have available. We will involve parents and carers at every stage in plans to meet their child's additional requirements, and where necessary involve children themselves in the planning and decision making that affects their experience.
Our Process
We have an inclusion provision team headed by our Inclusivity Co-ordinator. The more information we have, the best we can support children with SEND. Each term, our Inclusivity Co-ordinator makes applications to the council to fund additional support. We use this funding to provide additional staff members for children with more complex needs. Where possible, we run a trial session where we can assess what level of support the child may need, before discerning the best course of action. We provide regular inclusivity and disability training to our staff members, and put 1:1 coaches on more specific courses.
If you have any queries about our Inclusion Provision, you may email our Inclusivity Co-ordinator at [email protected]
Holiday Club Addresses
Shine Sports Hall - Brecon Road, Henleaze, BS9 4DT
Shine Sports Ground - Lime Trees Road, Horfield, BS6 7XW
Coombe Dingle Sports Complex - Coombe Lane, Stoke Bishop, BS9 2BJ
Clifton High School - College Road, Clifton, BS8 3JD
What are your Policies and Procedures?
Shine have 4 robust documents that encompass Safeguarding.
Shine's Safeguarding Policies and Procedures have been written in accordance with Bristol Safeguarding Children's Board.

Shine's Policies and Procedures, which includes behaviour management.

Shine's Staff Handbook.

Shine's Health and Safety Policy
If you would like any information contained within these documents please contact Bryonee – [email protected]
How does Shine deal with Safeguarding?
Safeguarding is at the centre of everything we do. John Colley is our Designated Safeguarding Lead, with 4 Deputy Designated Safeguarding Leads, all of whom are trained to DSL standard. Should you have any safeguarding concerns regarding a child or a member of shine staff, please contact John on 01174 033033 or [email protected]. If John isn't available for any reason you will be pass on to a Deputy.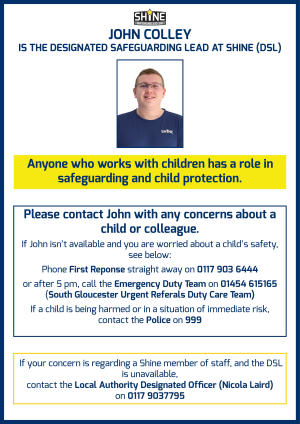 After School Club - Re-Booking
Shine may offer a rebooking window at your school in order to give current customers the opportunity to book onto the same club, determined by the same day, time and activity, before it opens to everyone.
If the club changes activity, ie. Football changes to cricket, they the club becomes 1st come 1st served.
If the club changes day, then the club becomes 1st come 1st served.
Being given access is not a guarantee of a space. This is due to the nature of our system, we allow one off bookings and therefore there maybe more customers wanting to book than there are spaces. Some of our clubs are highly demanded and we recommend early booking to avoid disappointment.
All bookings for September are open to everyone and there is no re-booking window.
Holiday Club - Wraparound Care
We offer wraparound hours at selected venues.
Morning 07:45 - 09:00
Afternoon 16:00 - 18:00.
When you add your activity of choice to your basket, you will be able to add on your additional hours.
Holiday Club - First Aid
If your child needs first aid whilst at Shine Holiday Club, all of our staff are first aid trained in the first instance and we will have all first aid support on site in a separate area with staff prepared in appropriate PPE and gloved.
Are Shine staff DBS checked and insured?
As one of the leading sports coaching providers in the region, Shine recognise the importance of ensuring all staff are DBS checked, properly insured and hold appropriate coaching qualifications. Relevant documentation is available on request.
Is Shine Ofsted registered?
Yes, Shine's Ofsted registration number is EY561377
Do Shine accept childcare vouchers?
Yes, good news Shine accepts childcare vouchers. Our details are:
Company Name: Shine Wraparound Care Limited
Company Address: c/o Shine Community Sports Hall, Brecon Road, Bristol BS9 4DT
Ofsted Registration Number: EY561377
When you contact your voucher provider, please refer to the details above, even if the location of the activity you have booked is different than our HQ. If you require any advice please call our Childcare Voucher Helpline on 0117 4033 033 (Monday to Friday 09:00-16:00) or email [email protected].
Here is a list of the providers Shine is currently registered with and the relevant reference/account numbers:-
Apple Childcare Vouchers
Bristol City Council (electronic payment only please - no paper vouchers, contact

[email protected]

).
Bath & North East Somerset Council (electronic payment only please)
Busy Bees - refer to Ofsted number EY487213
Care4: 74703599
Childcare Account
Childcare Grant Service
Childcare Voucher Solutions
Computershare: 0021955615
Co-operative Flexible Benefits: 85110979
Edenred: P20980343
Employers for Childcare
Enjoy Benefits:
Faircare:
Fideliti Childcare: SHI074C or refer to Ofsted number EY487213
Kiddivouchers - refer to Ofsted number

EY561377

PES
Rascals
RG Childcare: 91816199198
South Gloucestershire Council (electronic payment only please - no paper vouchers)
Sodexo: 839823 (plus the postcode of BS9 4DT)
Tax Free Childcare Scheme (please search BS9 4DT for location - we are listed as Shine)
Additional Information
Please note you can only use your vouchers for your own children
We only accept e-vouchers (no paper vouchers, thank you).
If your childcare voucher provider is NOT on the list above then please contact us and we will liaise with your provider in order to be able to accept them.
My child has a serious medical condition or allergy. What should I do to alert the staff?
It is the responsibility of parents/carers to pass on any important information regarding specific treatment, medication or handling of any medical condition. There is an option on the medical information section to tick if you would like a manager to contact you prior to the booking to discuss your child's needs. Medication and a detailed care plan must be provided prior to attendance. If sufficient information or medication is not in place, Shine reserves the right to refuse attendance, for the safety of the child in question.
After School Club - What are the signing in and out procedures?
By completing an online booking with Shine your child's name will automatically appear on the official register for the activity you have chosen. On arrival Shine staff will register your child's arrival and ensure everything is in order. The attendance register will be cross checked on regular occasions during longer activity days such as holiday clubs. At the end of each activity a parent/carer is required to sign their child out before they are able to leave.
If your child is of an appropriate age to leave the premises unsupervised you must inform us in writing. We will NOT allow a child to leave without this consent.
Please note it is very important that, if you have arranged for your child to be collected by a third party (perhaps a friend or grandparent) you must inform a Shine member of staff on arrival in the morning or by email before the event. It is also important that the person collecting the child is aware of the sign out procedures so please ensure they are fully informed.
Will sporting equipment be provided?
Yes, sports equipment for the sessions are provided by Shine in all its activities EXCEPT for hard ball cricket when we can only supply the ball. The equipment is checked for quality and safety reasons and cleaned after every use. However, please note that personal sports gear and protective kit - such as a cricket box, football boots or shin pads - are not provided.
Do I really need to book my child online or can we just turn up?
For safeguarding reasons we require that all children are booked in using our online booking system. If you experience difficulty booking in, we ask that parents contact us for support on [email protected].
Children who are not booked onto their sports or after school clubs by 12.00 on the day means they will not appear on our register and therefore be walked back to the school office and not able to take part due to staff ratios and available spaces.
If you require a late booking (made after 8am for Holiday Clubs or after 12 midday during term time) please call on 01174 033 033 or email us at [email protected] and we will do our best to accommodate your child in their preference of available activities.
What clothing and footwear should my child wear?
It is the customers responsibility to ensure that their child is provided with appropriate clothing and footwear for their selected activity. Advice on any specific kit will appear on the activity page during the booking process. It is advised the children arrive fully dressed for their planned activity, such as wellie boots when attending an outdoor adventure session in wet conditions. Children must bring their own shin pads and a protective box when playing football and 'hard ball' cricket respectively. Failure to do may mean they cannot participate in the session.
What happens to the personal information we supply to Shine when making an online booking?
All information provided to us by customers, such as medical information and contact details, are retained for internal company use only. We NEVER pass any information on to third parties or disclose any information to any other person. Customers can edit their marketing preferences by accessing their MyAccount section at anytime.
All card payment details are sent directly to Shine's online payment merchant Stripe. We never see any of this information. Stripe has been audited by a PCI-certified auditor, and is certified to PCI Service Provider Level 1. This is the most stringent level of certification available.
Do you accept children who are 4 years old into Holiday Club?
Children MUST have started into Reception at school in order to come to any Shine Holiday Clubs. We recommend Shine Mini's or Shine Creative as the most suitable activity options for 4 year old who are in Reception. We reserve the right to ask for them to be collected should they not cope well, but this is rare. To discuss the matter further please email i[email protected] .
Can't find what you're looking for?
Please contact us with any questions