Shine Saints JFC - U14
(Year 9)
#UpTheShine
Shine Sports Ground, BS6
During the season the Shine Saints coaching team will deliver a combination of competitive league matches and training sessions that will develop the players skills, techniques and knowledge of the game in a supportive and professional environment. The Under 14 Squad is eligible for players going into Year 9 in September.
Secure your place for £32.50 per month via Direct Debit throughout the season until Sunday 28th April 2024. Your subs include the following:
Pre-season training - Wednesday's starting on 2nd August 16:30-18:00 until Wednesday 30th August at Shine Sports Ground, BS6.
Training Sessions - Friday's starting on Friday 8th September from 17:00-18:00 at Shine Sports Ground, BS6.
Matches - Are on Sunday's with team fixtures starting on Sunday 3rd September. Home matches will usually kick off at 12:00midday at the Shine Sports Ground, BS6. Away matches, and at various other times throughout the year, kick off times will vary due to fixture times and pitch availability.
Communication - All Saints matches and general communication is organised via our match app, SPOND.
Competition - Saints U14's compete in the Avon Youth League.

20% off Football Fundays during school holidays at any location. Discount code available on request.

Free trials available. Contact [email protected]
To pay by Direct Debit, please check out as usual; in the check out you will see 'Payment Methods' and you can select Direct Debit here.
M
T
W
T
F
S
S
DATES
Wed 2 Aug '23 - Sun 28 Apr '24
ESSENTIAL KIT
Season Overview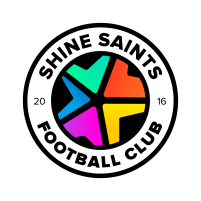 Players will get the chance to improve their technique in all the essential skills through fun games. These skills will be age appropriate as part of a progression through the age groups from Under 6 to Under 15.
The focus of the weekly sessions for the U14 squad will include:
Attacking (Shooting, Crossing)
Defending (Tackling, Positions, Goal side)
Pattern of play (E.g. playing out from the back, wing play and pressing the ball)
Communication and team work
Free kicks, penalties and other set play pieces
Ball control (Dribbling, turning, skills)
Matches and rules
Learning to win and lose
Long, short, lofted and driven passing
Team Formations
Each session will end with small sided matches in which the members of the squad will be divided into ability based teams and put their new skills into practice.
In addition to improving the participant's knowledge of the game and helping them to work as part of a team, sessions will also incorporate fundamental skills such as;
Balance
Speed
Communication
Co-ordination
Agility
Matchday and Training Facilities
Shine Saints home ground is located at the Shine Sports Ground, Lime Trees Road, BS6 7XW (directions). Shine's spacious and well-maintained sports facility, provides superior grass and artificial pitches as well as FA approved goals. In addition to ample on-site parking, accessible toilets and changing rooms, the match day café serves hot and cold food and drinks for players and supporters.
Please note we don't train in school holidays or bank holidays. The dates training we already know we will NOT be running and your coach will notify you should this change or others be added:
Friday 27th October. No training for Half Term. Sunday 29th October, unknown until the fixtures are decided.
Friday 22nd December/Sunday 24th/Friday 28th/Sunday 31st December (Christmas break) Back Thursday 4th January.
Friday 16th February. No training for Half Term. Sunday 19th February, unknown until the fixtures are decided.
Sunday 31st March/Friday 4th April (Easter break). Sunday 7th April is unknown due to the fixtures to be decided.
Your coach will notify you of any further dates we aren't running.